Fact Book 25th Edition (Published 2020)
Also Available:
Product Details
The Fact Book 25th Edition is a statistical yearbook of non-alcoholic beverages for the 2019 operating year.
Available for immediate download.
Published each spring, the Fact Book provides all-channel data, facts and analysis for the non-alcoholic beverage marketplace.
Find out which companies are gaining and losing. Learn which brands and which categories are succeeding, and which aren't. Discover which products are growing and which are declining. Contains unique data-rich charts, tables and analysis.
Your download includes two files:
A Forty-Page PDF report, including thirty charts and tables.
A Datasheets document in excel format, including nineteen tables of beverage volume data.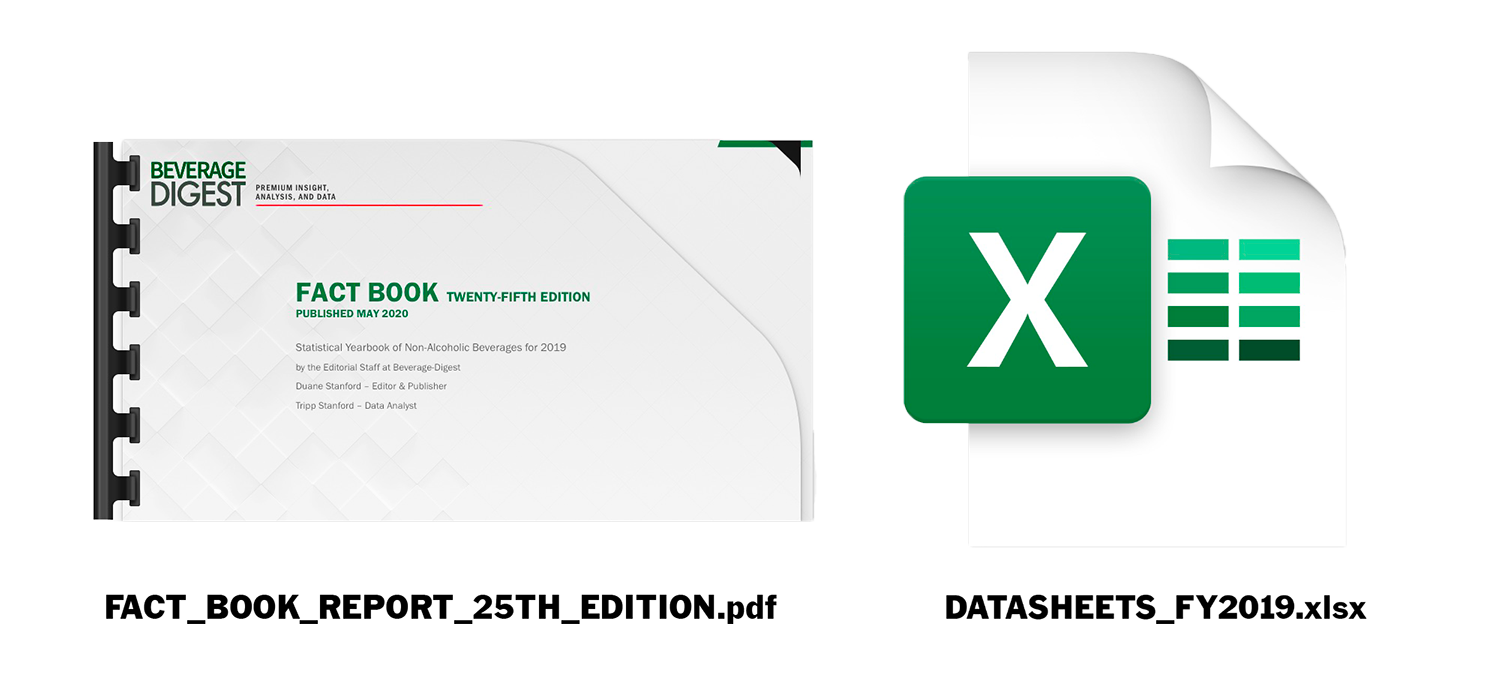 The Beverage Digest Fact Book 25th Edition provides comprehensive and detailed information on subjects including:
Updated market data for 2019 
Thirty years of historic trends
Performance and growth metrics
Total liquid refreshment beverage metrics
Carbonated soft drink beverage performance and trends
Per-capita consumption
Selected pricing and value data
 
Access Levels
COPYRIGHT WARNING: Your single-user license gives you access to one PDF or printed copy of Fact Book 25th Edition at a time. The license does not permit sharing Fact Book 25th Edition via any method (including but not limited to email, file share, thumb drive, and printed copy).
NOTE: If you need wider access to the content for your team or department, we have multi-user licenses available. Questions? Contact customerservice@beverage-digest.com.
Single User License: Allows one individual user to download or possess a copy of the report. $1,050.

Departmental License: Entitles up to 5 individual users in a single department location to download or possess a copy of the report. $3,150

Site License: Entitles 20 or fewer users in a single geographic office location to download or possess a copy of the report. $9,500

Company License: Available by negotiation based on total anticipated users. Email customerservice@beverage-digest.com for pricing.
This 25th Edition of the Fact Book is for industry executives, suppliers, bottlers, analysts, franchise companies, investment bankers, equities investors, marketing executives and anyone else who needs a direct line of sight into the fast-paced and evolving beverage sector.
For information about the Fact Book 26th Edition (published June 2021) visit www.beverage-digest.com/factbook
Questions: Contact customerservice@beverage-digest.com